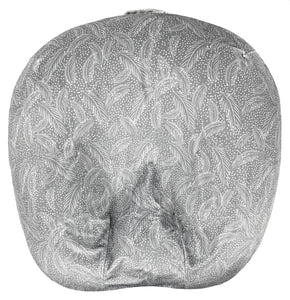 Baby Newborn Lounger Cover with Zipper Closure - Grey Feather
KiddyKlouds
BUYER NOTICE:
COVERS ARE MADE FOR BABY LOUNGERS WHICH HAVE BEEN RECALLED. HOWEVER, SOME OWNERS CHOSE TO KEEP AND RE-PURPOSE THE LOUNGERS AS PET BED, SEAT CUSHION OR BACK REST CUSHION… AND THESE COVERS ARE MADE FOR THEM. PLEASE RESEARCH BEFORE ORDERING.
THANK YOU!
COVER ONLY: This cover is made to fit boppy newborn lounger. It won't fit other baby lounger on the market.

SUPER SOFT MINKY: If you want something that feel great for your baby, then this is the one. It is made of super soft bubble minky fabric. 100% polyester.

EASY TO CLEAN AND CARRY: The cover is made with 36" high-quality zipper which makes it super easy to put on and take off for washing. It also has a convenient handle to help you carry it around easily.

A GREAT BABY SHOWER GIFT: the slipcover is a most useful and practical gift that will surely please the little one's mom and dad.